Dark Faeries Tales and All Things Uban Fantasy are teaming up for Deadly Destinations: Your Guide to Killer Hot Spots! The event will start on July 1st and end on July 31st with a new author blogging about their worlds and characters each day. They'll also be giving away some pretty awesome prizes — you're not going to want to miss it!
Look for my guide to Jefferson, Mississippi on July 9, and one lucky reader will receive a signed copy of BLOOD SECRETS!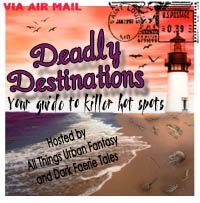 Check my newly updated Events page for more cool stuff!